"Hidden in Plain Sight" 5-Day Group Exhibition
February 13th - February 18th
6:00 pm - 8:00 pm
ABOUT "HIDDEN IN PLAIN SIGHT"
A 5 Day Exhibition Featuring 6 Emerging Female Artists:
Hidden in Plain Sight, featured 6 emerging female artists who are actively reimagining and challenging how we see the everyday. They reclaim craft and textile arts, challenge traditional painting head on, and employ symbolism, art historical reference, story telling and popular assumptions of beauty in order to tell a new story. We like to imagine what is going on in each of their heads— a mind like that is never bored. Rather, they must walk into an empty, white room, their familiar studio, or, even, a packed subway car and fill it with vibrating, brilliant narratives and techno colored, tactile dimensions.
Ho Chan is a Taiwan born artist, currently studying Painting at the Pratt Institute in Brooklyn, New York.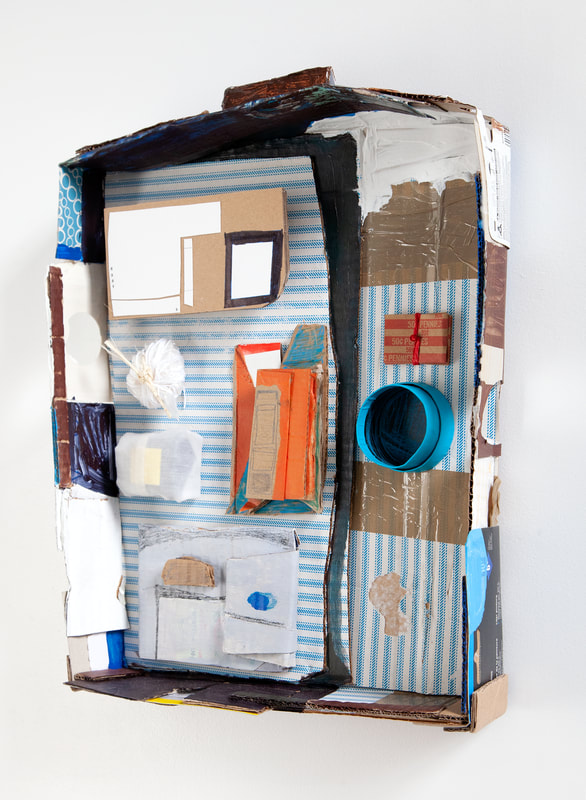 Abby Cheney is an artist from Baltimore, MD, currently living in Brooklyn, NY. She received her MFA in Painting from Pratt Institute in 2018, and her BA in English and Studio Art from Kenyon College in 2014. She constructs sculptures from recycled materials to explore our interaction with memory. Her use of discarded cardboard and paper packaging highlights the value of the banal in our lives. The versatility and limitations of cardboard and paint in her work enable the creation of clumsy, yet endearing renderings of abstract experiences and relationships.
Rachel Gisela Cohen is an artist, independent curator and educator living and working in Brooklyn, NY. She received her MFA in painting and drawing from Pratt Institute and her BA in Art History and Studio Art from Drew University. She has been awarded fellowships and residencies from the National Endowment for the Arts, Vermont Studio Center, COPE NYC and the Tyler School of Art. She has exhibited works at Pierogi Gallery's The Boiler, Montclair Art Museum, the Visual Arts Center of New Jersey, Standard Projects and the Crane Arts Center of Philadelphia. Please join Rachel for her upcoming solo exhibition on March 1, 2019 from 6-9pm at Thomas Hunter Project Space at Hunter College.
Talia Levitt (b 1989, Brooklyn NY) is completing her MFA at Hunter College in May 2019, and received a BFA from the Rhode Island School of Design in 2011. She is the recipient of the Rhode Island State Council for The Arts Grant in Painting, 2016, The Kossak Travel Grant, 2018, and the Hunter College Goldberg Presidential Scholarship. She has attended residencies at the Vermont Studio Center, VT and Rancho Linda Vista, AZ. Her work indulges in the sumptuousness and the properties of paint, while investigating the gendered, paradoxical history of still life painting as it pertained to European genre hierarchy and similar lingering contemporary distinctions.
Nikki Mehle (b.1991, Youngstown, OH) is an oil painter whose works involve images of birds, animals, and humans within complex patchwork-like environments. She has a deep interest in patterning, storytelling, and femmage -as coined by Miriam Schapiro. She believes in allowing images to appear quickly (in the manner of dreams) but rendering them slowly and carefully with oil paint. She has received a BFA from the Cleveland Institute of Art and an MFA from Hunter College. She was awarded a Kossak Painting Grant, and she has participated in Brashnar Creative Project Residency in Skopje, Macedonia. She is a 2019 recipient of a New Works Grant from Queens Council on the Arts.
Sofia Zu'bi is an artist and curator currently living and working between New York and New Jersey. She was born in 1993 in Newport Beach, CA and studied at both Art Center College of Design and Pratt Institute with a BFA in Painting and Art History. Sofia has been represented by Linda Matney Gallery for five years and has had frequent shows in Jersey City and New York. She has sold her artwork around the world and is part of major private collections. She is currently working on her first children's book, Sawdust. NYA Gallery will host Sofia's first solo show, presenting her completed book and large scale paintings for the month of August of this year.