Japanese Live Art Two-Day Exhibition
Live Art & Music Performances
Starring Pinokio
Japanese Live Art Two-Day Exhibition
Starring Pinokio w/Live Art & Music Performances
Friday, February 22nd & Saturday, February 23rd
7:00 pm - 12:00 am
JAPANESE LIVE ART TWO-DAY EXHIBITION
Starring Pinokio
The Japanese Two-Day Live Art Exhibition is a celebration of Japanese art and explores the cultural resonance between the Japanese & NYC live art, visual art and graffiti scenes. In addition to live performances by talented Japanese musicians, this two-day exhibition starring Pinokio, features Japanese, Japanese American and American visual, graffiti and performances artists.
Some of the other performers: Taisan, RF3RD & Shiro. See all three artist bios below!
about pinokio
Pinokio, travels through his own hidden spiritual world, which is dense, odd, and gloomy. His art works are produced through this journey, extracting the powerful visual image to the real world. Born in Okayama in 1979, Pinokio was a child who rather played by himself and often hid himself in a reverie. In 2000 he moved to Tokyo by himself out of the pure desire wanting more people to see and touch his artworks.Takuro studiously produces his new works and throws one-man exhibitions regularly. His works are not limited to drawings, he also creates installations and often performs live paintings, and creation of a massive batik in the public. He is not hesitant to expand his art fields and tries many new things. In 2012, he took part in the art festival Burning Man, where he could actually feel people really appreciating and enjoying the art and be liberated spiritually by the encounters with the art. It was a great experience for him. In 2016, he moved in New York to aim higher for his improvement as an artist. To begin with, He dived into new and valuable experiences such street performance and wall painting producing.
Live Art Show At The UnSpace
More of Pinokio's brilliant Live Art Performance Masterpieces
MEET SOME OF THE OTHER ARTISTS
Born in Detroit, MI., Richard works as an illustrator and graphic designer in New York. Stylistically drawn to the aesthetics of anime and manga, he compliments his illustrations with his background of street art, giving his characters attitude, yet a hint of cuteness that reflects strongly his character and personality.
"From a young age art has always been where I found myself best expressed. I am an abstract making, stitched together by the thoughts in my mind. My creativity is an extension of my life experiences, my relationship with God, my family and friends. The good times that pad the terrible nightmares. My art will always be the way to see my dreams, failures, and hopes. I am a product of everything that kindles my creative soul."
-RF3RD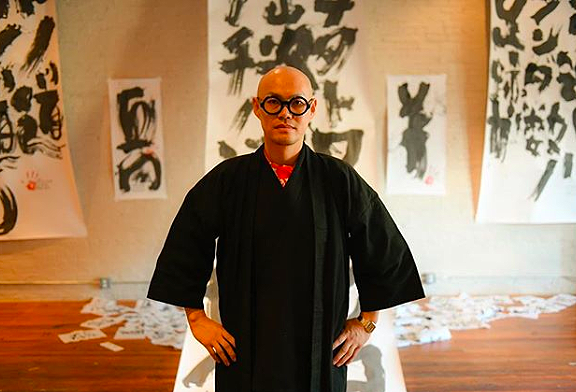 Taisan is a talented Painter, Illustrator and Calligraphy Master and Artist based in NYC. After many exhibitions in galleries through Japan, his unique art became a phenomenan. They asked for their help for this issue. They asked for their help for this issue. word chosen by Taisan was the word "Gratitude". Then Taisan moved to the city in 2015.He has exhibited globally including solo exhibitions and performances at Frankfurt in Germany, Oviedo in Spain, Stockholm in Sweden and more.
Shiro is a graffiti artist from Japan. Her vibrant imagery reflects her love for the Hip-Hop culture and old school graffiti, revolving around her original character "Mimi", a dynamic and strong role model of womanhood.
Dividing her time since 1997 between New York and Japan, she brings a Japanese esthetic to a New York art form which merges into a truly unique style.
Her first stay in Queens and Brooklyn was 2002-2004 when she had the opportunity to work with many great graffiti artists who inspired her to develop her own style. Shiro also works as a nurse, caring for the elderly and those at the end of their lives and this experience has given her an unusual perspective which infuses her artwork, melding compassion and gentleness with the dynamism of the Hip-Hop genre.