A Week-Long Celebration of Free Arts Programming for All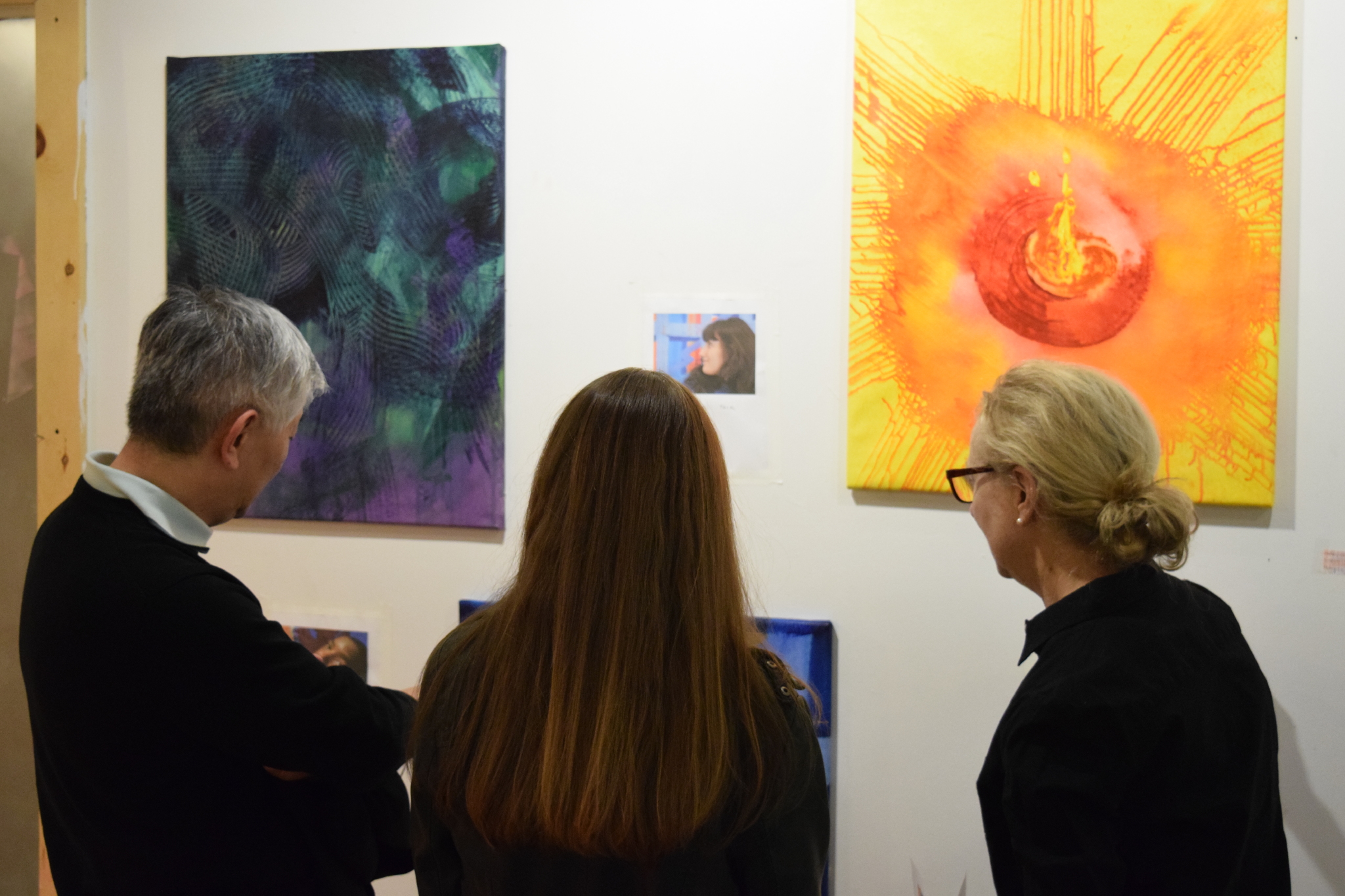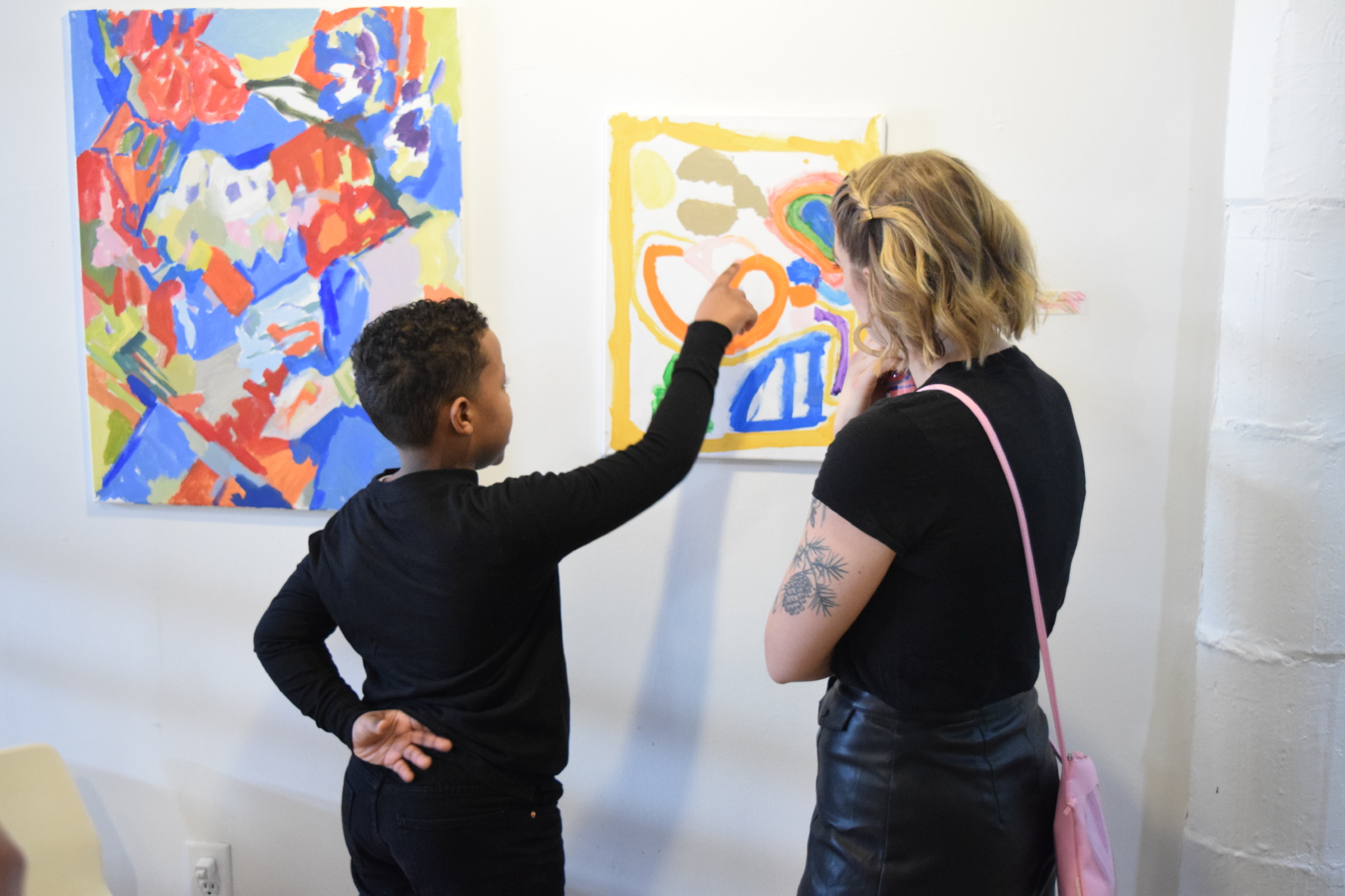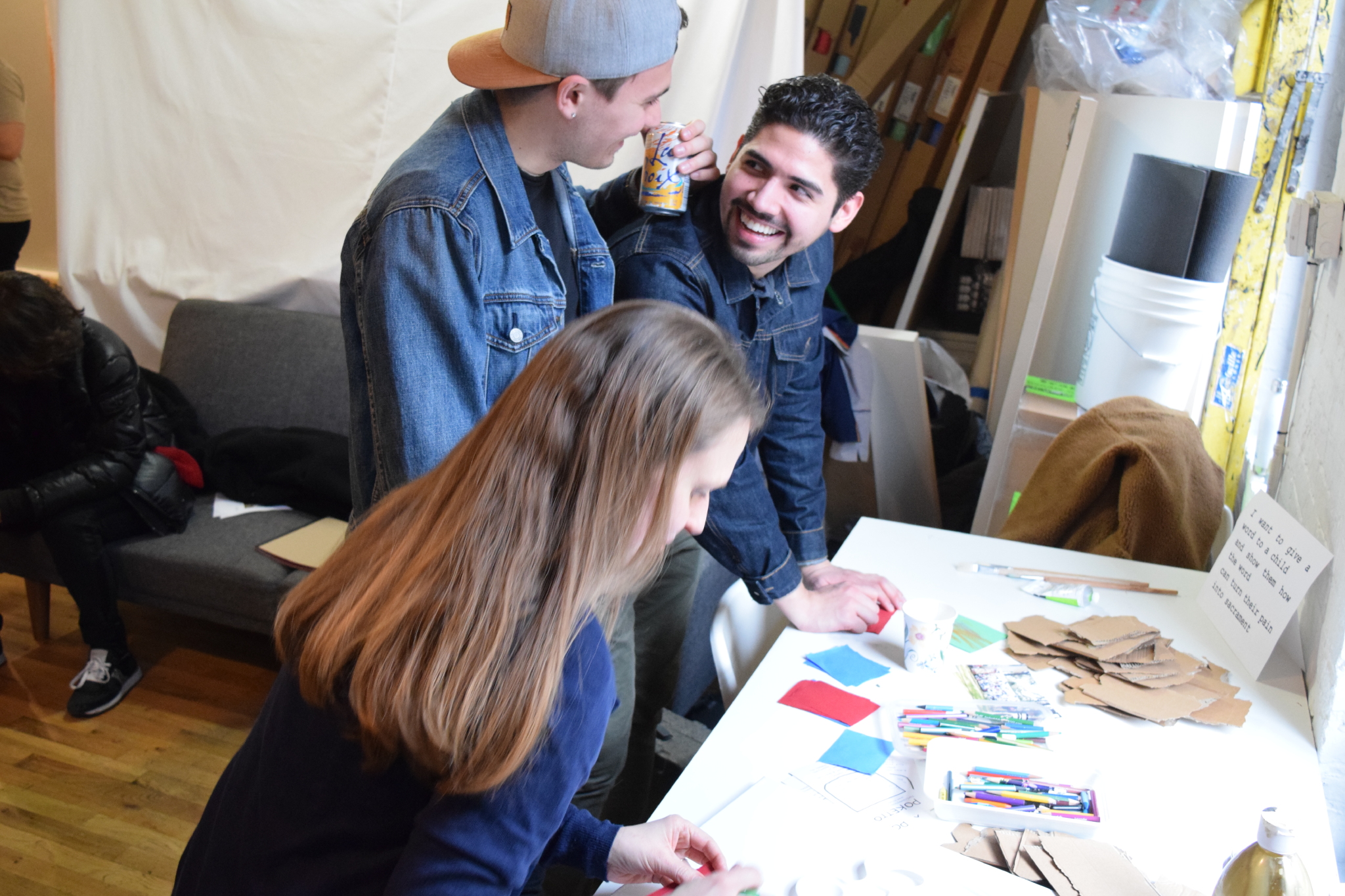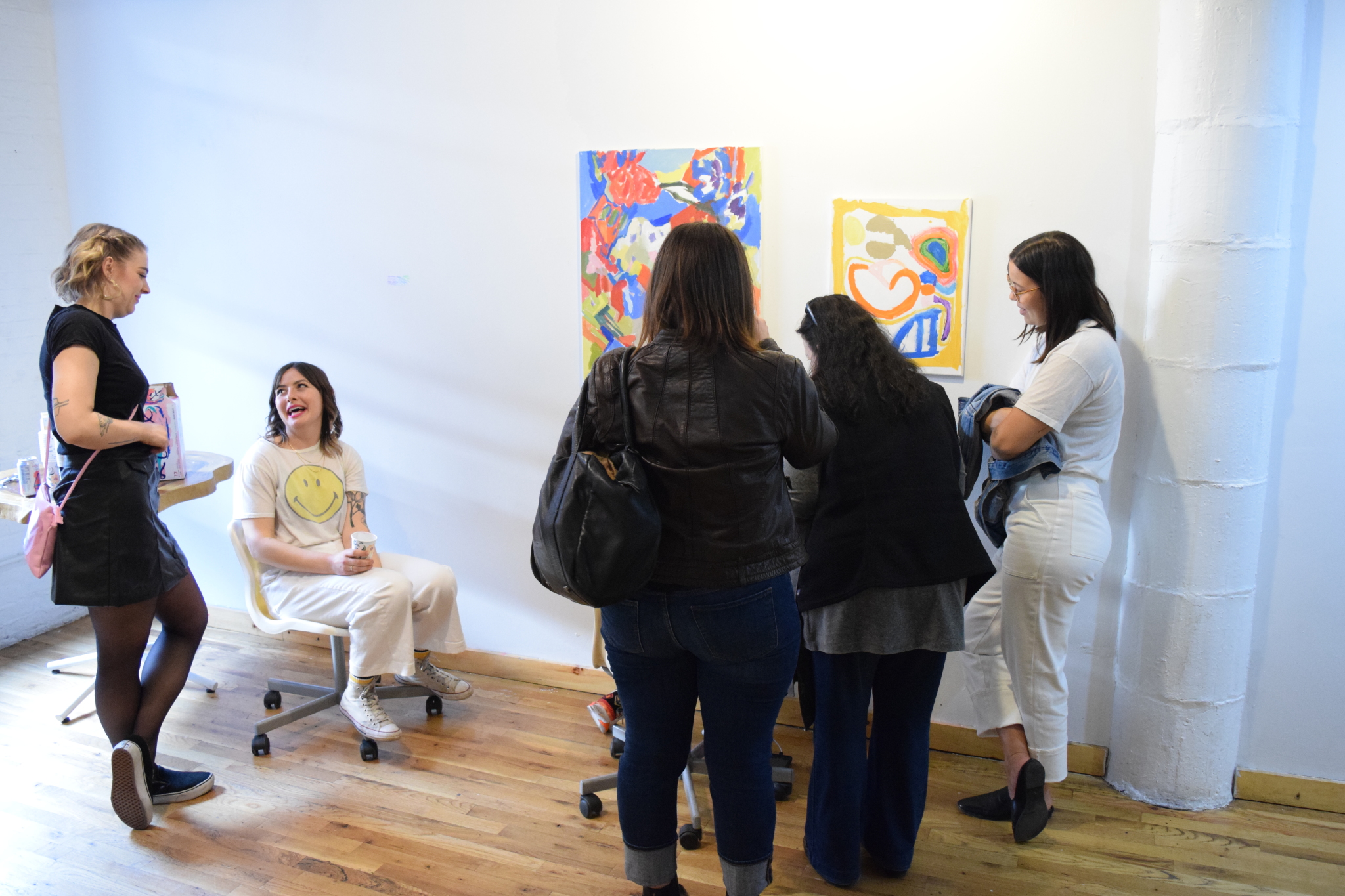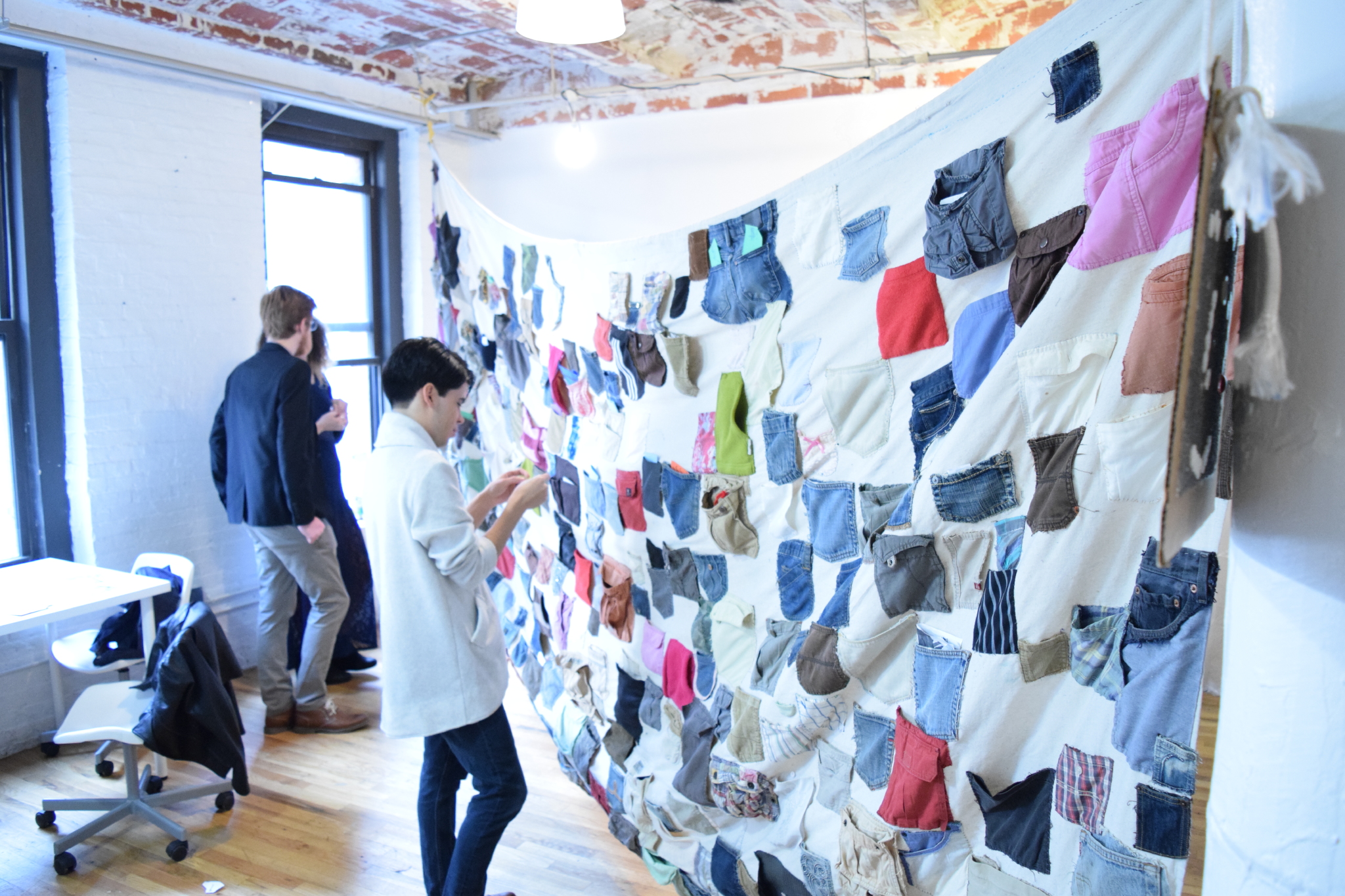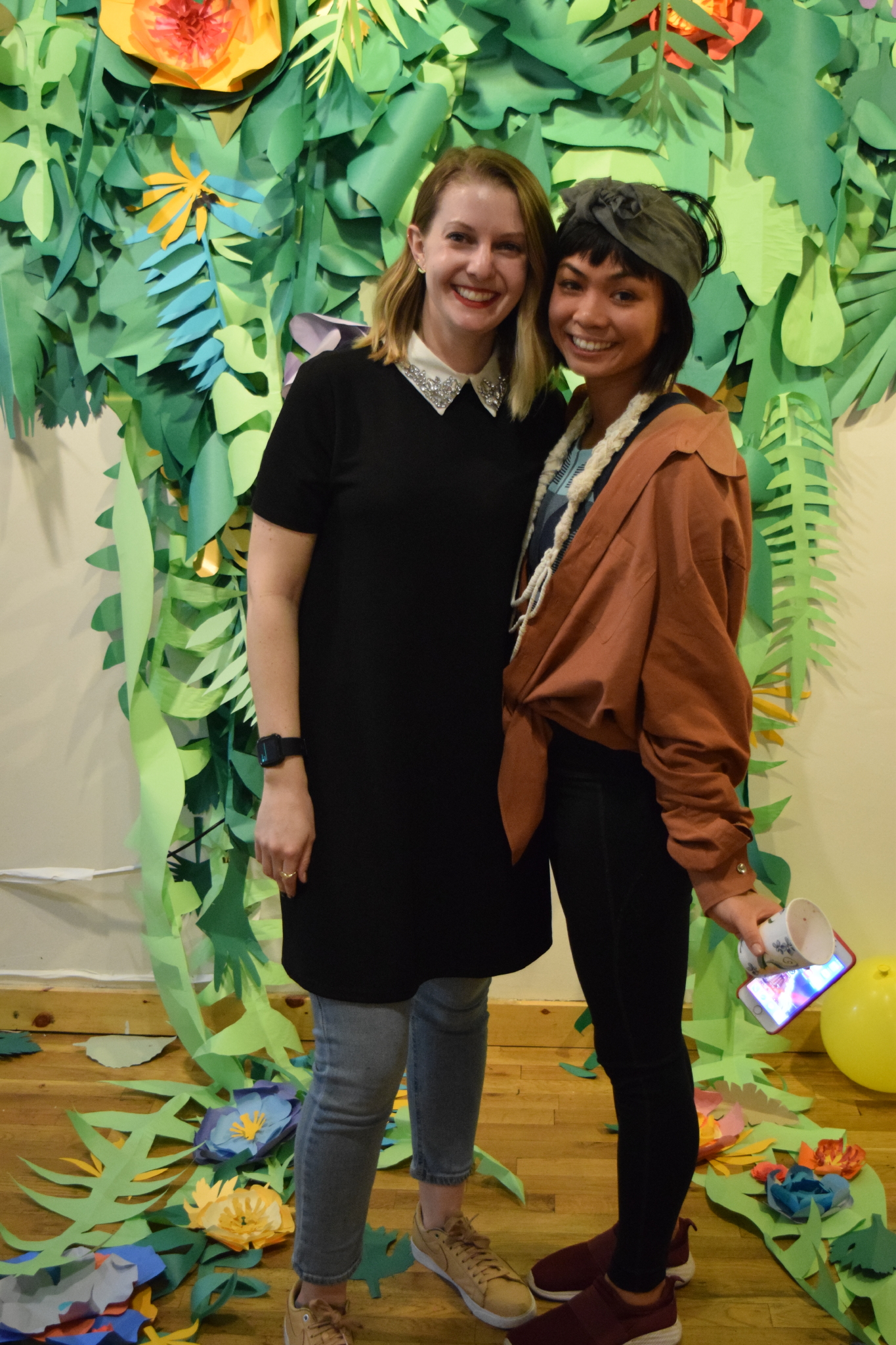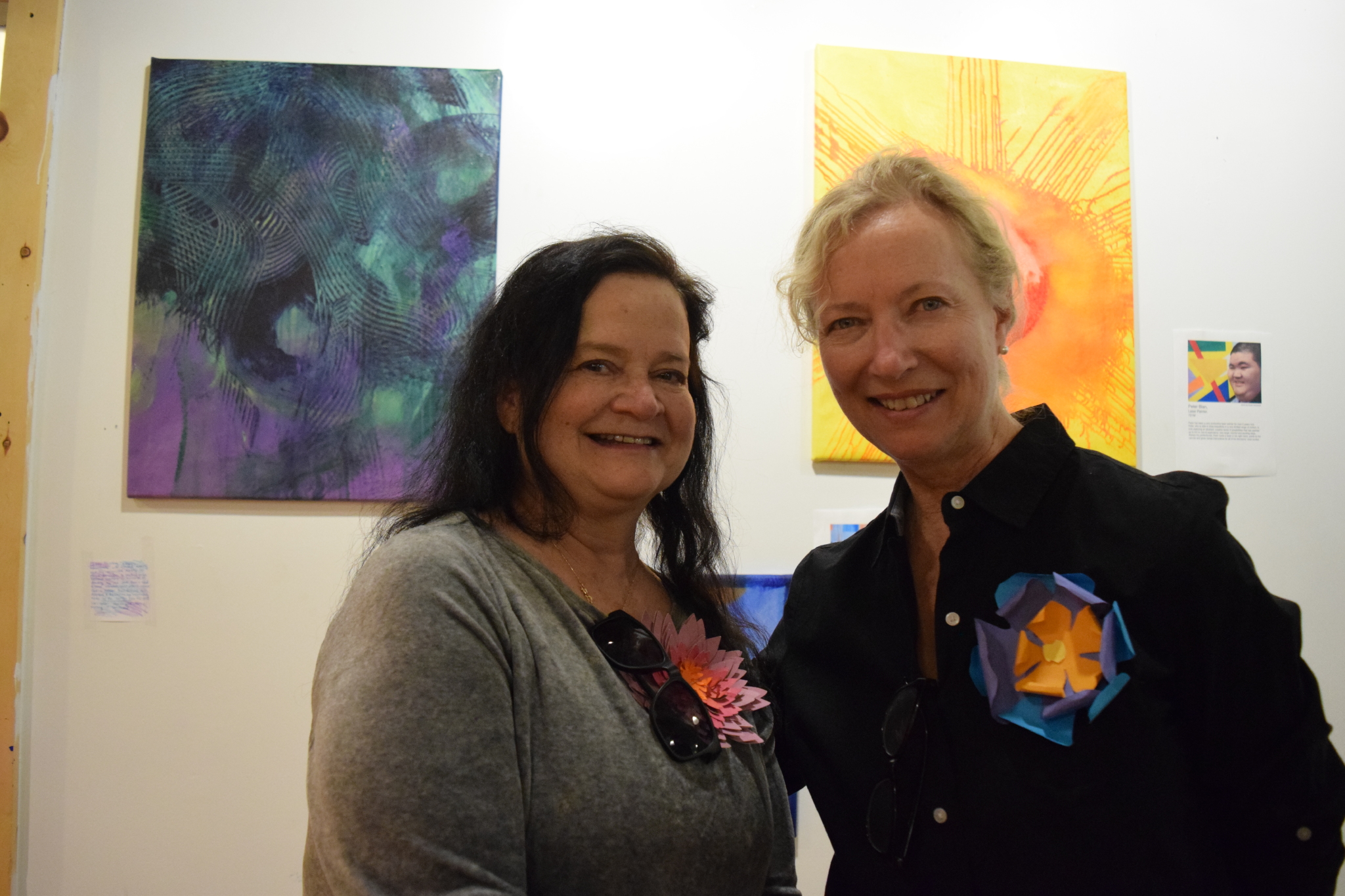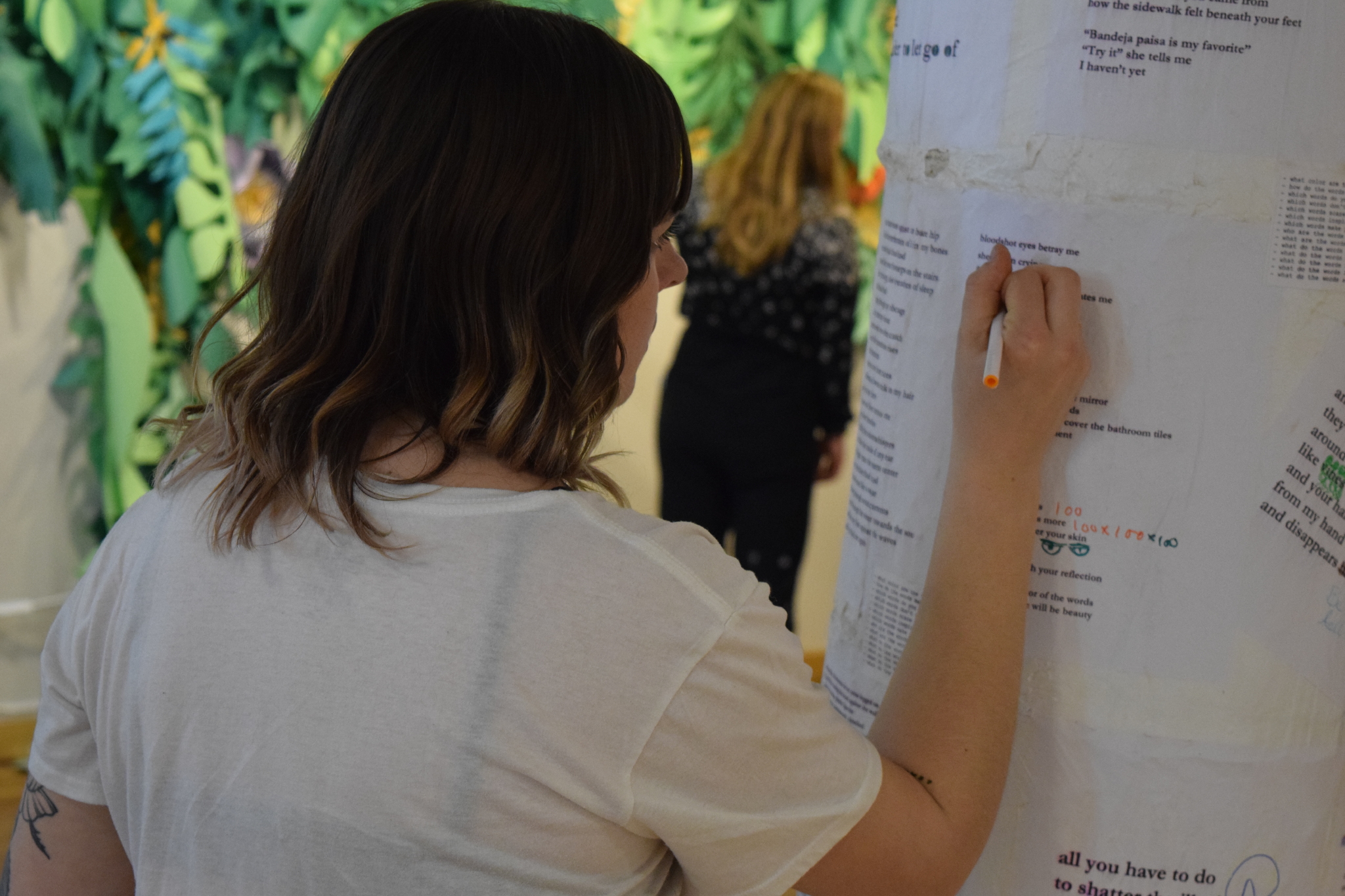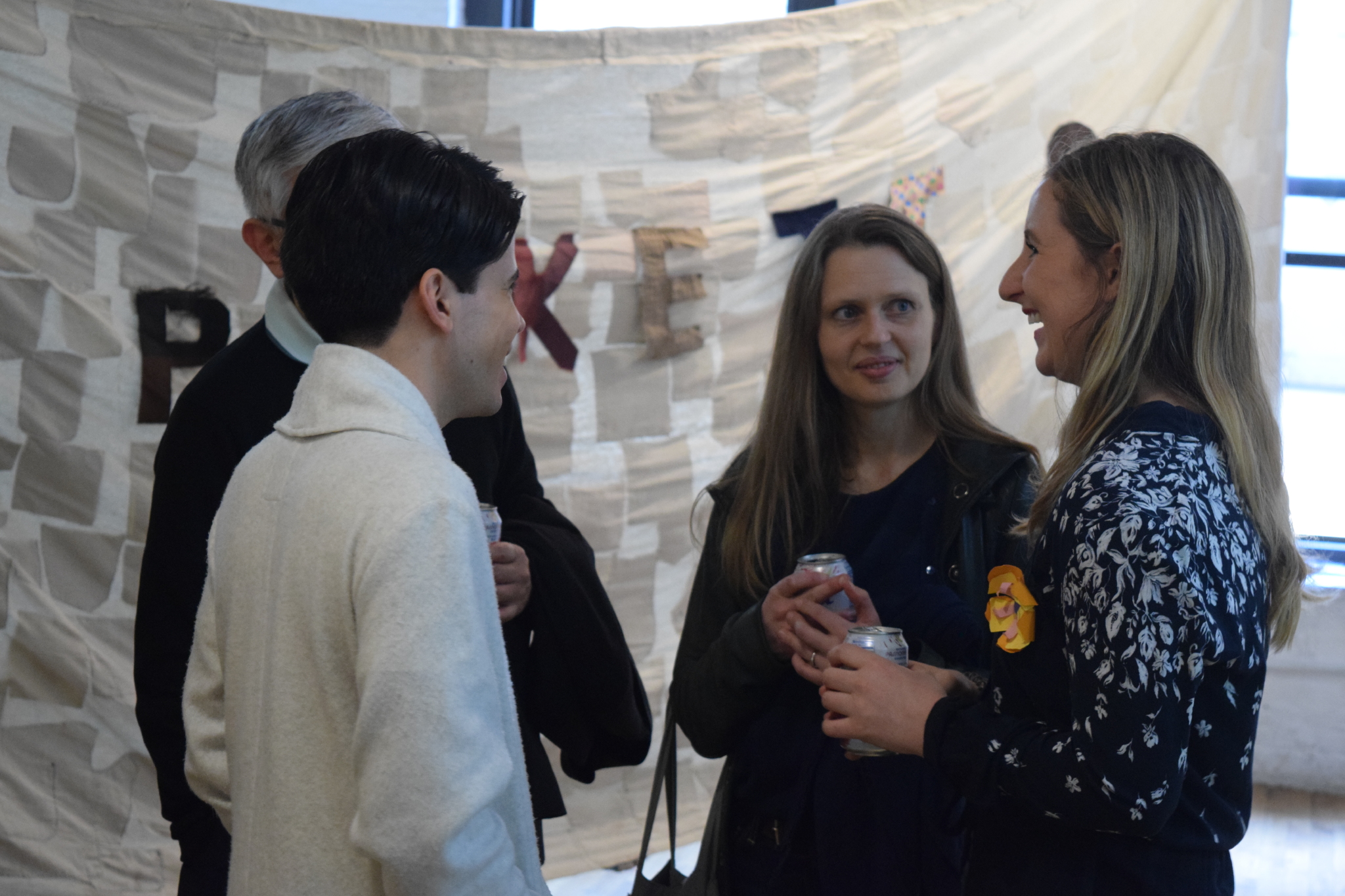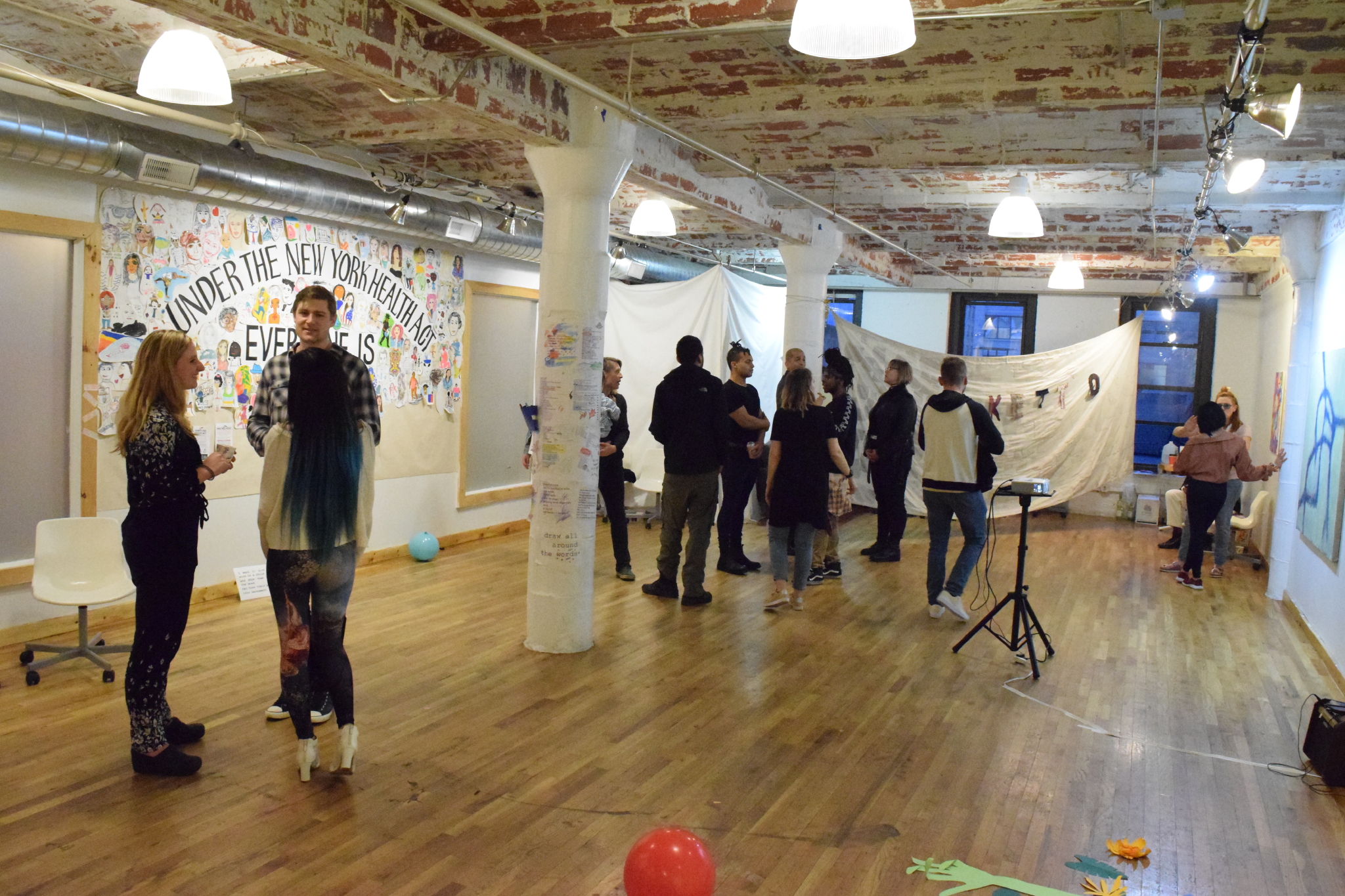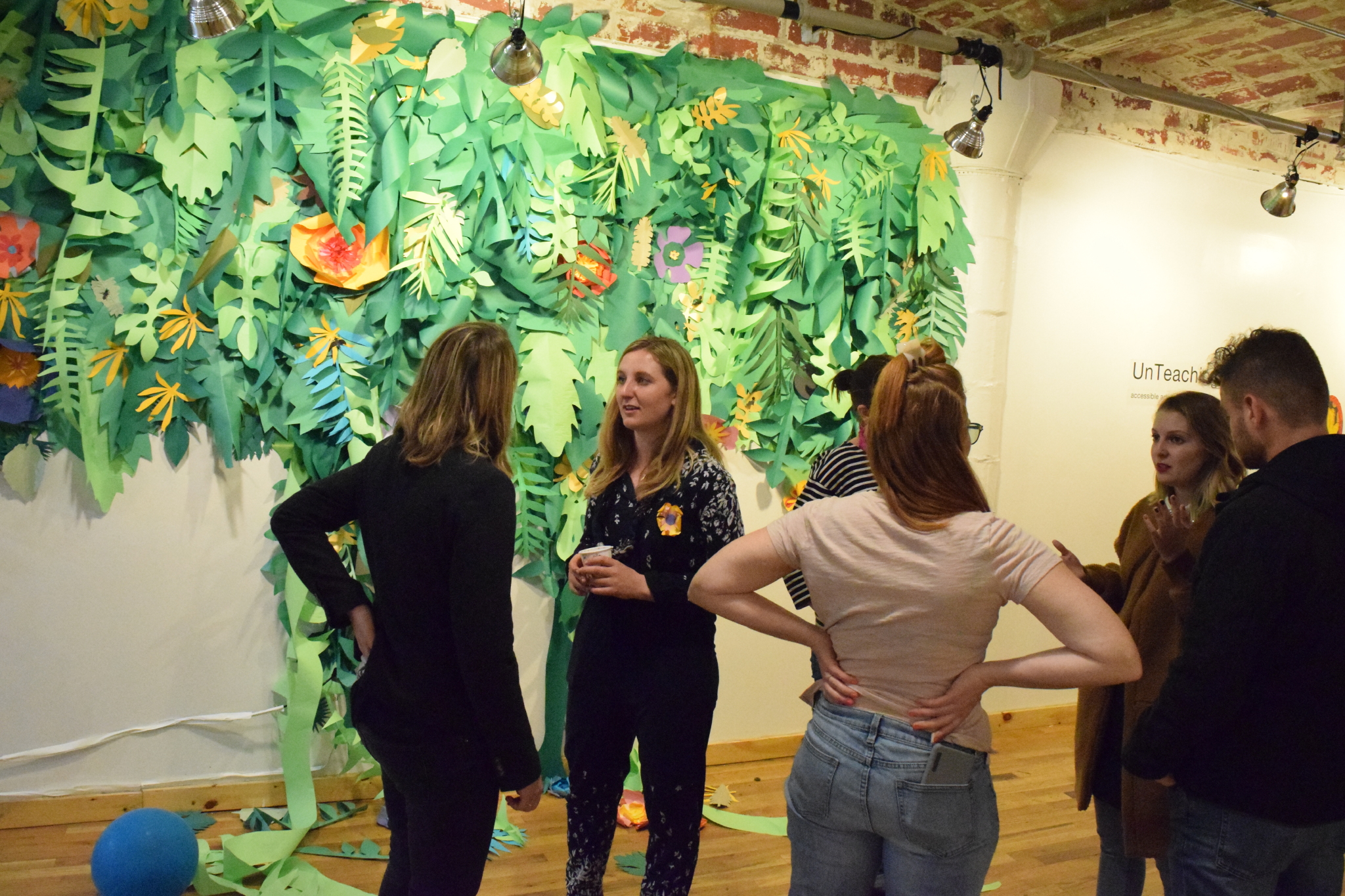 March 27th - April 4th
UnTeaching is a week long exhibition that celebrates the profound value of arts in education through free programing and ground breaking artworks. Teaching artists will come together to create an inclusive, constantly evolving space where arts and community intertwine to create something new! In such a way, the space is constantly changing: "breathing" with each participant who comes in and out of the UnSpace. Rather than entering into a white wall gallery space, each participant has the unique opportunity to engage, physically, with the artwork and leave behind their unique fingerprint. UnTeaching will become a reflection of us all.
Gallery will be open from 12pm - 5pm daily
Workshops are free and open to ALL
Corinne Amato and Leela Le Nouri of One Art Spark
"Teaching and creating in community are necessary actions for me to engage in - vital like breathing. Both teaching and creating require a practice of consistent questioning and an openness to information in unexpected spaces. I am the recipient or witness of teachings far more than the bearer of knowledge. This is the art I co-create through Open Art Spark."
Transforming materials typically unwanted into something precious, desirable, even magical, is what she endeavors to share through Open Art Spark. To encourage each of us to view our surroundings with a fresh perspective, a process that can transform beyond art and into each part of our lives, to create strong community at home and in the workplace.
Join One Art Spark from 1pm - 3pm on Sunday, March 31st for a creative making session of Umbilical Fiber Necklaces. Umbilical Fiber Necklaces (from our "Reimagining Materials" project) are derived from the repurposed fiber necklaces. The medium is repurposed fiber and wire hangers.
Nichole van Beek received a BFA from The Cooper Union in 1998 and an MFA from The University of California, Santa Barbara in 2007. She has exhibited work at Jeff Bailey Gallery, Morgan Lehman Gallery, and Ortega y Gasset and Tiger Strikes Asteroid in Brooklyn, among other spaces, and she organized participatory drawing projects for the Forward Union Fair in 2017 and 2018. She has also attended residencies at Vermont Studio Center, Jentel Foundation, and Kingsbrae International Residency for the Arts.
In This Picture: Everyone is Covered, I ask participants to draw a New Yorker with me in support of The New York Health Act, our state's plan for universal, single-payer healthcare. While drawing, I invite participants to discuss personal experiences with access to healthcare, and thoughts and feelings about current legislation and government proposals.
Siobhan is delighted to be serving as an Education Liaison with Marquis Studios! She has a passion for exploring a wide diversity of art forms and loves to share that passion with others. As an arts educator and administrator, Siobhan has seen the impact of media making and creative expression and strives to make this experience accessible to all students! Originally beginning her career in filmmaking, Siobhan studied Film Production and Theater at Ithaca College and was part of the inaugural class of the Fierstein Graduate School of Cinema. This has shaped Siobhan's approach to arts education which incorporates both process and theory. She has been taught with a variety of organizations including the New York International Children's Film Festival, Museum of the Moving Image, BRIC, The Little Animation Studio, Geek Forest, and Teachers College of Columbia.
Join Siobhan from 3:00 - 5:00 pm on Sunday, March 31st for a DIY Filmmaking Workshop! Using minimal materials participants will learn how to make their own animated films using simple supplies and technology most already have.
Participants will download a free animation app and learn how to secure their tech. They will learn basics of animation that will allow them to continue animating at home!
"Art education is extremely important for the cultivation of every student's whole essence. I believe that everyone has within themselves the same potentialities as the professional artist, but perhaps a larder degree. Everyone has intellect, emotion, spirit, imagination, ability to move, and educable responses. Every normal person is equipped with the power to think, feel, will, and act. Anyone can dance within the limits of their capacities. To bring this to the realization of our youth necessitates an approach that is based on these fundamental human capacities. I strive to research and play with how I can help keep the creative impulse alive into the realities of adult life with heightened power and more enlightened purpose. I strive to contribute to the larger aims of art education- the developing of personality through conscious experiencing. I believe that it is only art that all aspects of a human's complex nature are united in expression."
Les Saisons Movement Workshop
Tuesday 4-7
Join my musician, Sarah Favinger and I in a 3 hour movement workshop deconstructing our sensory movement patterns through my repertoire solo of "Les Saisons En Nous". I'll create a brave open dialogue space for all of us to come together regardless of our movement experience. I'll lead an investigative warm-up opening our bodies to use sensations, dreams, and desires as a way to enter movement to articulate our personal truth. We'll get to a place of dissatisfaction- which was the catalyst of why and how Les Saisons vignettes were discovered.
Stress takes a big toll on our body. In Spring Rejuvenation, we will learn different tools to support our immune system, and the effects stress has on our body using both yoga and movement therapeutic practices.
Spring Rejuvenation workshop and Tea Ceremony on Saturday from 12-2 pm
Jodie Lyn-Kee-Chow, artist and adjunct faculty professor has been responding to current societal issues with performance, installation, and community oriented works taking on the role of a storyteller, influencer, and teacher by instilling togetherness and collaborating to find complete stories answering to what has been lost through time, displaced, and erased. Being an 'other', a 'minority', person of color, woman, immigrant, of a certain socio-economic or marginalized group has shaped her perspectives and outlook on these issues. With avid research based on the histories of places, and ones heritage, she can't help but to (re)claim, (re)tell, and (re)educate on the forgotten stories through art.
Join Jodie from 6-8 pm on Monday, April 1st for a performance lecture and art workshop: Junkanooacome: Help Jack(ie) in the Green build Pitchy Patchy.
"We spend so much time teaching children to do math and science, to read and write, but we spend almost no time teaching them how to express themselves or how to process their emotions. In this way, we need art more than anything else. Through art, students find endless ways in which to express themselves, to express their joys, their defeats, their goals etc. I've seen students who are otherwise silent in class become suddenly animated when doing theater. I've witnessed students suffering from depression who are unable to speak about it but want to write about it in a poem; and suddenly not only is poetry a resource they have discovered, but it's a resource for teachers who need to better understand the emotions of their students. Arts education opens students up, it introduces new channels of expression, it even helps fuel creativity within STEM programs. It should be the foundation of our educational system, rather than a mere afterthought."
" On Friday evening, from 6-8PM, I'm hosting what we're calling a Spoken Image Workshop. I'll have a collection of my poems laid out and participants can add their own visual responses to the poetry. You're able to choose a poem, and "tag" it with your own artwork before we paste all the poems onto the columns inside the gallery. The poems will be displayed there for the duration for the exhibition which officially opens on March 30th. Feel free to come by anytime between 6 and 8pm, bring a friend, tag your poem and have a glass of wine before heading off to your Friday night plans. "
Michael Morales is a master teaching artist working with D75 and PS students in New York. He has proposed to run an open workshop geared towards teachers, artists, singers, dancers, musicians, videographers, and anyone interested to experience the power of rhythm and learn to unlock it. Each Rhythm Workshop is led with a live band and can also serve as a straight up fun jazz funk fusion performance.


Micheal will host a Rhythm workshop on Friday, March 29th from 3:30 - 5. On Saturday, March 30th, he invites you to join him for Families + Everyone and Sound Meditations,. On Wednesday, April 3rd he will host a final show from 5-8!
"I am an installation artist and animator. I teach animation at Farmingdale State College SUNY and have led workshops on stop motion in partnership with organizations like The Bartol Foundation, the Fleisher Teen Lounge, The Center for Emerging Visual Arts Senior Partnership Program, The Queens Council for the Arts Senior Partnership Program and other arts organizations. The nature of stop motion lends itself well to community workshops because most animations require many hands. It is also the type of shared process that sparks conversation. My work and process has grown from working with others. I have learned to reach out when I need help. I love hearing and animating other people stories. Prior to teaching I worked in a very insular way."
Join Jennie on Friday, March 29th from 12-3pm for a public workshop in papercraft— participants will learn how to create paper flowers, leaves and bugs. They will create one piece for themselves and add one piece to the wall garden.
"Arts education has given me freedom, critical thinking, exploration, curiosity and much healing. I am eternally grateful to the teachers that nurtured my creative process, and my goal as an arts educator is to inspire my students to access and grow their own sense of self by spending time with their imaginations and exploring different modes of expression through art making practices. Arts education breeds creative problem solving, introspection, and curious observation that I think are fundamental to healthy and constructive members of society. It is empowering to witness your emotions, visions and observations translated from your minds eye to a work of art that can witness others. My hope is that my students can become confident visual story tellers, believing in their right to take up space as artists who's visions are worth being seen and heard."
Julieta Varela will be hosting a mindfulness workshop on Tuesday, March 26th from 5-7 pm and on Wednesday, March 27th from 6-8. All are welcome to attend.